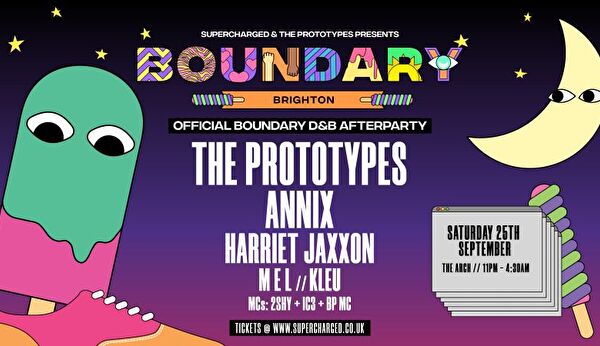 SuperCharged Presents The Official Boundary D&B Afterparty w/ The Prototypes
Door Times:
11:00pm - 4:30am
SuperCharged x The Prototypes pres The Boundary Brighton D&B Afterparty

Saturday 25th September
11pm-430am
The Arch
After 20000 of you spend the day raving in the SuperCharged tent at Boundary we are hosting the official drum and bass Boundary afterparty at The Arch. We team up with Brighton's finest, The Prototypes, to bring you some of d&bs finest selectors all night long.
LINE UP
The Prototypes
Annix
Harriet Jaxxon
M E L
Kleu
MCs: 2Shy, IC3 & BP MC
*please note the House Afterparty is at Coalition and tickets are on sale via supercharged.co.uk separately.